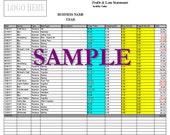 THE PROFIT TRACKER
SUPER EASY TO USE:
~ All you have to do is enter your item price and the tracker will calculate your end of sale fees for both etsy and paypal.
~ Easy to read reports to show your P&L.
TO LEARN MORE ABOUT THE TOOL, READ BELOW:
THE PROFIT TRACKER
can do so much for you and your business. Whether you are a seasoned craftpreneur or just starting out, you can't go wrong with THE PROFIT TRACKER.

USES & BENEFITS OF THIS TOOL:
The PROFIT TRACKER is an easy to use Excel base tool offering a comprehensive analysis of the profits and losses of your business.
As a 'craftpreneur', I often have a hard time (1) figuring out how much I am making on a sales on Etsy, (2) accurately account for how much I am spending on supplies, (3) identifying which venue (Etsy, craft show, etc.) I am selling at is more profitable, and (4) determining if my overall business is profitable.
For many years, I used QuickBooks, both in my professional career and in my own business. However, over the last few years I found that I needed something simpler that I can use anywhere. Therefore, I created The Profit Tracker using Microsoft Excel, which allows for easy data entry and quick analyses.
THE PROFIT TRACKER
is geared specifically towards Etsy sellers (formulas already imbedded to calculate fees) who might sell in other marketplaces, such as craftshows. However, the tool is completely customizable for other online marketplace fee structures. If you need assistance setting up for other online marketplaces, please contact me to discuss.
Here are some of the things
THE PROFIT TRACKER
will help with:
• Track the health of your business every day.
o Instantly get a snapshot of your business profitability.
o See how your business is performing.
o Compare overall performance from month to month and/or venue to venue.
• Analyze which marketplace is more profitable.
o If you sell in multiple venues, easily see which one is more profitable, at any given time.
o See if your Etsy shop is more profitable during a specific month, season, etc, so you can focus your marketing.
o For the same item or a given time period, determine whether one venue (i.e. craft show or wholesaling) is a better value (including fees and other related expenses) than an online marketplaces (i.e. Etsy and PayPal fees).
• Analyze your product offering and promotional efforts.
o See which item is more profitable.
o If you run an advertisement or promotion for a month, look at prior months to track the effectiveness of the ad/promo. Did you make more money during the period of the ad/promo run? Has sales consistently increased since the ad/promo?
• Analyze where you shop for supplies.
o Look at all your vendors to see how much you are spending.
o Compare overall performance among your vendors.
o Basically, see where you are spending your money and how often.
• Makes the TAX SEASON relatively painless.
o Get your receipts out of your shoebox and into a more manageable system.
o Print and take to your tax preparer, all the information you need is there in one place.
• Assist in making decisions.
o Can you afford to make that big purchase at vendor X?
o Should I do another craft show?
o Overall, how is my business doing?
What you get when you order
THE PROFIT TRACKER
:
1. You will get a file ready to load your data
o File contains built-in formulas to calculate your data.
o A pivot table file that summarize your data in an easy to read format.
2. You will get an e-book training file.
o The e-book will contain a sample files of the excel spreadsheet and pivot table.
o There will be many notes with pictures/screen shots.
o Detail explanation of the information you need to enter verses what the tool will calculate for you.
3. In addition, you will receive technical support for 2-weeks after purchase.

CONSIGNMENT TRACKER
If you consign your work to boutiques, galleries, etc then the
CONSIGNMENT TRACKER
is the product for you.
THE
CONSIGNMENT TRACKER
will help you:
~ Make smart business decisions
~ Track your inventory (when it was shipped, how long it's been on consignment, etc).
~ If you have multiple consignment opportunities, you can quickly identify which shop is doing best.
~ If you have multiple categories of items on consignment, you can track the sales of your items (what sells best and at which location).
All the hard work is already done for you, all you have to do is plug in your information.
The
CONSIGNMENT TRACKER
will be emailed to you with 48-hrs of receipt of payment. What will you receive:
~ A spreadsheet ready to plug and go with notes identifying each column and what information to populate.
~ Chart and pivot table with notes on how to view various scenarios (i.e. what sold at Shop X sell and what is still available)
~ Complete Word base instructions with screen shots.
The
CONSIGNMENT TRACKER
comes with complete instructions and free email assistance for the first 7-days of receiving the product. In the notes to seller, be sure to specify the email address you want the file email to. Allow 48-hrs from receipt of payment for processing.